Mecca: hajj crush kills hundreds near holy city – live coverage
Saudi civil defence says more than 300 killed
More than 400 injured
Crush occurred on first day of Eid al-Adha festival
Second disaster to hit Saudi Arabia in a fortnight
Updated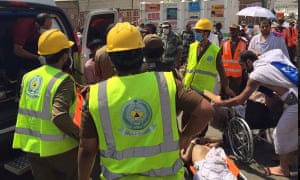 AFP has more details of the stoning the devil ritual, during which the stampede occurred.
Thursday's ritual was taking place at a five-storey structure known as the Jamarat Bridge, which cost more than $1 billion (£0.66 billion) to build, and which was used during earlier pilgrimages.
Almost one kilometre (less than a mile) long, it resembles a parking garage and allows 300,000 pilgrims an hour to carry out the ritual.
The faithful had gathered until dawn Thursday at nearby Muzdalifah where they chose their pebbles and stored them in empty water bottles.
They had spent a day of prayer Wednesday on a vast Saudi plain and Mount Arafat, a rocky hill about 10 kilometres (six miles) from Mina, for the peak of the hajj pilgrimage.
It was not immediately clear if the stoning ritual at Mina would continue as planned until Saturday after the stampede.
The ritual emulates the Prophet Abraham, who is said to have stoned the devil at three locations when he tried to dissuade Abraham from God's order to sacrifice his son Ishmael.
At the last moment, God spares the boy, sending a sheep to be sacrificed in his place.
The world's Muslims commemorated Abraham's willingness to sacrifice his son by slaughtering cows, sheep and other animals on Thursday.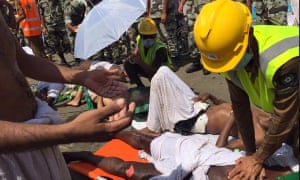 Approximately 25,000 UK nationals travel to Saudi Arabia for the hajj,
according to the Britihs Hajji Delegation
, which provides on the ground medical support to British citizens during the pilgrimage.
A spokesman for the UK foreign office said:
We are in contact with local authorities and urgently seeking more information following reports of a crush during the hajj pilgrimage at Mecca.

Death toll rises to 310
The death toll continues to rise. It now stands at 310,
according to Saudi civil defence
. Unsurprisingly, given that pilgrims gather from all over the world, it says several nationalities are among the dead.